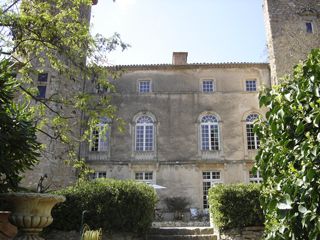 In a charming mansion, exclusive rental of the Castle - Bed & Breakfast - Room in the castle.
Your hosts, Martine Ecal-Besse and her husband Jean-Marie, look forward to welcoming you to a truly memorable stay in the beautiful, atmospheric surroundings of the Château d'Agel, their family home.

Magificent medieval chateau (partly from the 12th century), the Château d'Agel is flanked by 4 towers and a dovecot. It is in the center of the village. Its 2 ha park has terraces, open on the Cesse valley and the Pech Mountain, is perfect for quiet walks or a bath in the swimming-pool.
If you wish to find the ambaince from the past, you will enjoy the large lounges, the library, the spacious rooms and the breakfast facing the park. For family vacations or vacations with friends, it is possible to rent the entire castle, the park, the pool.