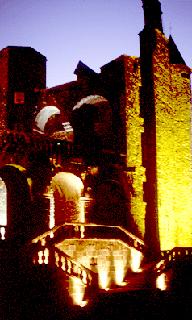 In the heart of the regional park of th "Volcans d'Auvergne", outlookingthe Limagne plain, the Chazeron castle is a genuine preserved historical monument and will be pleased to welcome your weddings, baptisms, birthday parties, banquets, seminaries, cocktails... from 30 to 300 persons can be seated with a maximum capacity of 1000 persons.

In spite of its residential aspect, the castle remains typically feudal in its center. The northern and southern ailes are inspired by the glory of the 17th century military architecture.
Independent from the castle itself, the ancient sheepfold is a testimony of the walls that surrounded the original village. Its spirit remains simple but friendly.

Torches, candles, firewoods will enhance the splendour and majesty of the place, by night and day.
Open all the year round.