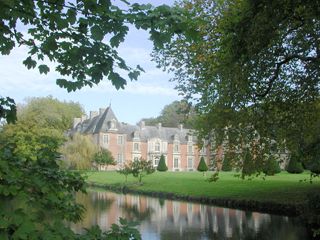 The castle of Franquetot is a large estate which is located in the middle of the presque-isle of Contentin, half way from the famous D-day beaches.
Thanks to its strategic location and its size, during the Second World War, the castle was occupied firstly by the German army and secondly by the U.S army. Both armies used the building as their headquarters for the region.
Since the religions wars to the 1789 French Revolution untill the World War Two allied landing in 1944, the castle of Franquetot was a privileged witness of major historical events.
Nowadays visitors can appreciate a rich cultural heritage thanks to the traces, such as frescoes and graffitis, left by the German and American troops.
In rencent years, this historical place has been dedicated to the organisation of weddings, private parties and receptions.
Personalized study of your projects.