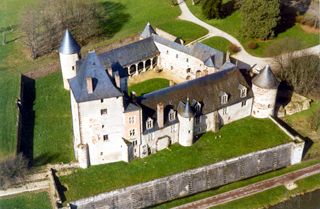 The Normans penetrated into Berry (11th century) ; one of them, Gillon de Seuly, fortified the village whence its name.Keep of the 11th century. La Chapelle d'Angillon became the Capital of the Principality of Boisbelle. The Princess of Clèves who inspired a celebrated novel reigned over the Principality. A unique royal court in the richest Renaissance style can still be seen. After them came Prince Gonzague, duke of Nevers and finally Sully, Prince of Boisbelle, a protestant, great minister of the catholic Henri IV. Together they ended the religious wars.
Very fine terrasse which dominates the vast lake. Henri IV...le Roi Soleil stayed there... a chateau furnished and inhabited.

A very interesting visit with a fine hall exibiting the 18th century Albany through its arms, weapons, souvenirs and clothings.
Museum Alain Fournier, author of the "Grand Meaulnes" : owing its stay in England, he became interested in the English painting and litterature (Thomas Hardy).