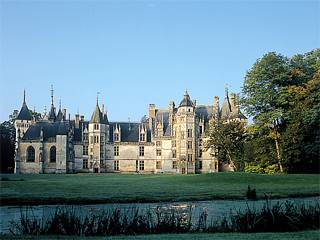 The castle of Meillant consists of a multitude of rooms all furnished in an exceptional way. Design, decoration and furniture reflect the art of living and the permanent search for aestheticism desired by the successive owners of the castle.
YouÂ'll notice in particular the dining room, covered in leather from Cordoe, a particularity unique to France: this huge reception hall has a huge chimney with the top designed as a musicianÂ's lodge.

YouÂ'll also visit the room of justice. The lords of Meillant had the right to pass judgment on their land.
Next, you will be guided toward the room of honor, then the guard room where you will find diverse weapons and sculptured stags carrying the weapons of renowned visitors who had stayed at Meillant.
Finally, a walk by the kitchen and its gleaming copper pans will have you imagining yourself at the table with the lords of the place, invited to the gastronomical pleasures of the time.