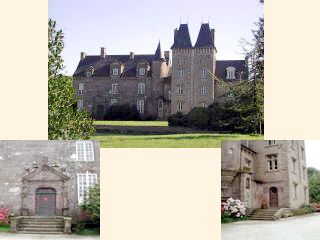 At the end of 16th century, Alain de Poulpry, Lord of Lanvengat, LĂ©on's archdeacon, was a Parliament of Bretany high judicial court judge, ordered the building of a residence for his nephew, named Alain as himself.
His nephew Alain succeeded to his fortune and to his position in the Parliament of Bretany.

A central portion of building with a fine corbelling turret and a magnificent Rennaisance door (in whitch fronton, we can read the date of 1584, of course, woodwork is much more recent) still remain from the origin.

During the French Revolution, the chateau and its dependencies were sold as "national possessions".
Various owners, until the Croc family since 1850.