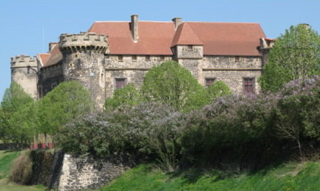 In the heart of one of the "Most Beautiful Villages of France", facing the Romanesque church, the stately architectures of the castle will bewitch you.
The big towers, high roofs and wall walks bring you back to the atmosphere of 13th and 15th centuries.
You will visit the old kitchen and some beautiful furnished rooms.
Join the French History with the powerful family of La Tour d'Auvergne, Queen Catherine of Médicis, Queen Margot and King Louis XIII !

Located near Clermont Ferrand, main motorways and airport. Saint Saturnin castle is the most ideal place to organize receptions in its great halls and terraces. Guests will be warmly welcomed and delighted by the autenticity and the comfort of period rooms and suites.