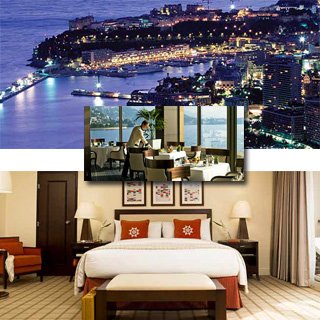 Built in 1975, one of the boldest hotel creations of the time opens its doors, built on the very spot of the first Monegasque railway station and moreover the famous "Tir au Pigeons", frequented by aristocrats and heads of state at the end of the 19th century. Its name: Loews Hotel Monte-Carlo.
Later named Monte Carlo Grand Hotel and since 2004, Fairmont Monte Carlo.
The Fairmont Monte Carlo hotel is a unique four-star luxury convention resort located in the heart of the Principality of Monaco in between the Mediterranean Sea and the legendary Casino of Monte Carlo. The hotel is one of the largest in Europe with its 616 guest rooms, residences and suites, two restaurants, a bar, 18 meeting rooms, roof-top heated swimming pool (closed seasonally from October 1st,2008 to April 30th, 2009), fitness center, shopping arcade and in-house Casino.