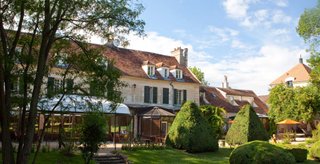 Situated in Varennes Jarcy, near the curve of the river Yerres, this beautiful building
from the 18 th Century, called "Le Vieux Castel" in the middle of a 2-hectare estate,
with large enclosing walls, and also with its French gardens, its hundred-year-old
trees and boxwoods.
This is for you a pleasant way to come and discover the region of Île de France, Paris
and its museums, its theme parks (Disneyland and Astérix), the Castle of Versailles,
Fontainebleau and the Loire Valley…
We have emphasized on a high quality receiving and environment. The park offers
beautiful points of view as far as the eye can see, with green areas and its summer
house. We have taken a special care in making your stay comfortable, as we
calculated any detail for things to be so.