| | |
| --- | --- |
| | |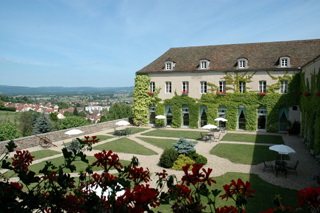 You first need an outstanding location : our french style gardens offering 24 miles of panoramic view over the Morvan mountains and framed by 17th century convent.
You will start your top class Reception there, on that huge elegant terrace. With a glass of Champagne you will have your first emotion at sunset over the Morvan. Ideal for you official pictures.

Then comes the Chapel of the old Convent, where your official Dinner and evening Reception will be held. Another precious time: when the guests are all in place, and the brides make their official entry with music.
A gastronomic dinner is served. All tables are decorated and the whole Chapel sparkles with candles.
Later, after dinner : drinks, DJ action and opening of the Ball.

Our way of working is to give you tailor-made services which contribute to make your wedding unique.
According to your recommandation, your taste, your symbols and your messages, we propose aperitives,
table decoration, table maps, music and animation in a perfect harmony.
You can compose your wedding dinner from our lists, piece by piece.

In the back stage, an expert professional caring team, with sense of details, is operating discretely to make sure that everything goes perfectly well.

Our hotel concept is that we do not sell a table or a bed, but emotions, services and excellence.
More than ever your wedding will be an opportunity for all of us to give you happiness and serenity.